The Hydro SS 700 Bench Top is a ready-to-operate unit that is ideal for small settings. Applications include interior humidification and evaporative cooling, and components are UV stabilized for greenhouse or outdoor use.
This centrifugal atomizer has a rear-feed blade system that quietly produces billions of tiny, fog-like particles that evaporate quickly. The unit's sump captures and recycles wastewater, eliminating the need for a drainage area. This feature conserves water, making this unit great for use in drought-prone areas.
The Bench Top uses a float valve to maintain the water level in the tank, a submersible pump to send water to the fogging head, and ball valve to control the fogging output. The Bench Top comes equipped with an on/off power switch, 15' of water line, and a 12' power cord with plug.
Quiet Nozzle-Free Atomization
Up to 4 GPH
Easy Pivot Fogging Head
Recycles Wastewater
Stainless Steel Components
Arrives Fully Assembled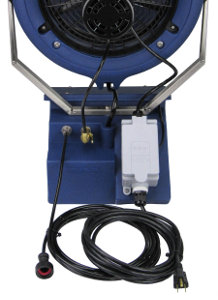 Standard Controls and Features
Hydro SS 700 Bench Top comes outfitted for manual operation.
The system can be automated by adding a control package.
1/4 turn, Flow Control Ball Valve
Stainless Steel Hanger and Housing Support
Simple Garden Hose Connect
Water-tight NEMA 4X Switch Box
---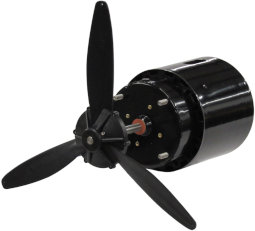 Jaybird's Rear-Feed Blade
Our exclusive blade design is a significant product development, enhancing reliability and performance.
Fasco Motor
Totally enclosed shaded-pole motor
Stainless Steel Shaft and Mounting Studs
Accessible Oil Ports to Bronze Bearings
Fan-Cooled with Epoxy Finish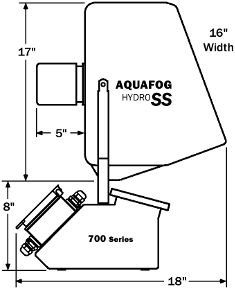 Fogging Capability:
Up to 4 gal per hour
CFM:
980
Motor:
1/20 HP, 115V, 60Hz
Energy Consumption:
1.6A @ 115V
Noise @ 10 ft distance:
63 dB(A) @ 10 ft
Average Particle Size:
40 microns
Weight:
17 lbs
Unit Dimensions:

Width 16"

Depth 18"

Height 25"

Hardware:
304 (18/8) Series stainless steel
Environment:

Endures temperatures from
33° to 160°

Indoors / outdoors

Humidity to 85% RH

UV stabilized & impact resistant

Shipping Weight:

28 lbs

Box Dimensions:

25" x 20" x 21"
Digital Humidistat Control

Environmental Controller w/ Humidity Sensor

A precision controller suitable for many applications. Control is very fast acting, displays humidity levels and has programmable differential range.

- Not recommended for prolonged use above 90% RH.

• Fast-acting Digital Sensor
• Range 5-99% RH
• Rated up to 1200W (10A @ 115V)
• Over-Humidity and Sensor Fault Alarm

Jaybird Humidistat

Dependable, Easy to Use
This pre-wired humidistat is ideal for control in applications under 80% RH.
Controller incorporates a mechanical-action sensor with simple dial control.
• Range 20-80% RH
• Differential approximately 7%
• Rated up to 1400W (12A @ 115V)
• Piggy-back plug, device connect

*This item is available for bulk purchases both labeled and unlabeled.
Contact manufacturer directly for price and availability.

110-250V 60/50Hz

Cycle Timer Control

Want to maintain high humidity above 80% then this pre-wired time-cycle control is what you may need. Select time cycles ranging from 30 seconds to 4 hours.

Water-tight Nema 4X
Includes 115V piggy-back plug

115V 60Hz

Thermostat Control

If your primary interest is indoor evaporative cooling, then this pre-wired control is what you need to automate your unit.

Water-tight Nema 4X
Control range 40-110º F
Differential 2º F
Includes 115V piggy-back plug

110-250V 60/50Hz

Temperature-Humidity Meter

Ideal for applications below 95% Relative Humidity

This precision hand-held thermo/hygrometer is ideal for measuring and monitoring ambient temperatures and relative humidity in a wide range of professional and industrial applications. Dual readout LCD displays
in °F or °C.

Temperature range/accuracy: 32 to 122°F (0 to 50°C)/1.8°F (1°C)
Humidity range/accuracy: 20 to 95%RH /3%
Response time: 60 seconds
Power source: CR2032 Lithium-ion battery (included)

Temperature-Humidity Meter w/ Dew Point

Ideal for applications up to 100% Relative Humidity

This precision hand-held thermo/hygrometer is ideal for measuring and monitoring ambient and dew point temperatures and relative humidity in a wide range of professional and industrial applications. Dual readout LCD displays in °F or °C.

Temperature range/accuracy: -4 to 122°F (-20 to 50°C)/1.8°F (1°C)
Humidity range/accuracy: 0 to 100%RH /3%
Response time: 60 seconds
Power source: Two "AAA" batteries (included)

24 Hour Timer Control

For automating on/off cycles

This reliable mechanical timer turns power on and off at selected intervals. Ideal for dawn-to-dusk type applications. Rain-tight enclosure, 115V - 15A receptacle.

Two sets of on/off trippers provided
Minimum 30 minute intervals

115V 60Hz