The ORSM is a powerful, compact atomizer for the dispersion of liquid chemical solutions. Common industrial uses include disinfecting and odor control. Tank holds up to 18 gallons for convenient portable use. ORSM can also connect to a metering pump and fresh water supply for long-term operation.
The ORSM is a centrifugal atomizer that produces billions of tiny, fog-like particles combined with powerful airflow. Fumigate interior air spaces for sterilization of surface areas and efficiently disperse chemical solutions for indoor/outdoor applications.
This durable, mobile fogger has powerful propulsion and a pivotable fogging head. Fogging output is factory set at 3 gallons per hour and can be re-calibrated from 1 to 11 (GPH) for a variety of applications, including humidification.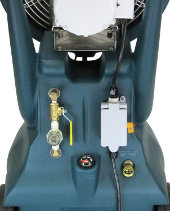 Standard Controls and Features
The ORSM has water-tight connections and a double-throw NEMA 4X switch box. The ORSM's maximum flow rate (ball valve fully open) can be recalibrated to any rate between 1 and 11 GPH.
Fluid Level Gauge
1/4 Turn Flow Control Ball Valve
Internal Calibration Valve
In-line Strainer with Clear Cap
Garden Hose Connection
18' Power Cord
---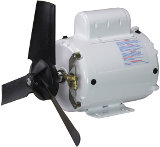 Jaybird's Rear-Feed Blade
Our exclusive blade design is a significant product development, enhancing reliability and performance.
ABB Wash-Down-Duty Motor
Industrial grade
For use around water
---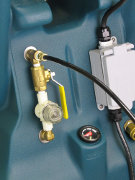 Metering Pump Inlet
The ORSM can also connect to a metering pump. Here, concentrated chemical mixes with fresh water on the way to the fogging head. Calibrate the water flow-rate to match with the chemical's dilution ratio.
3/8" O.D. Inlet Connection
1/4" NPT Plug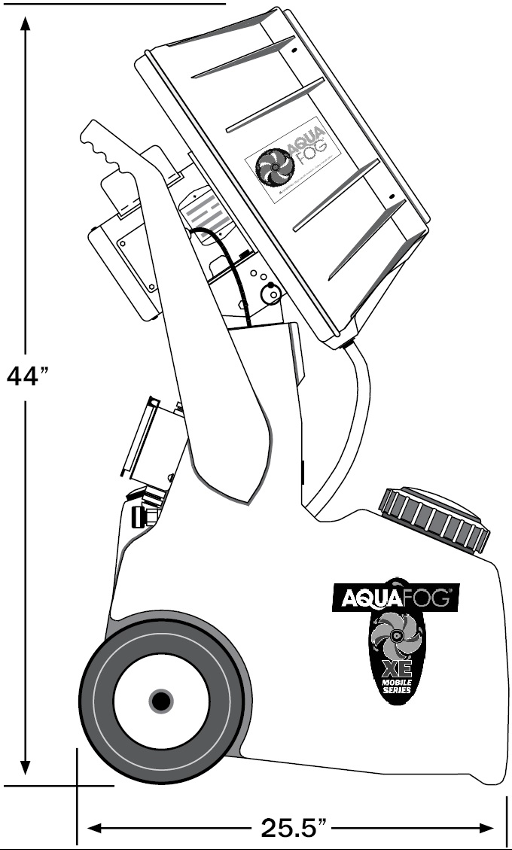 Unit Dimensions:

Width 21 in / 53 cm

Length 25.5 in / 65 cm

Height 44 in / 112 cm

Approximate Unit Weight:
80 lbs / 36.3 kg
Shipping Weight:

129 lbs / 58.5 kg

Shipping Dimensions:

46"x 24"x 32" (LxWxH)

Fogging Head Pivot Angle:
0°, 15°, 30°, 45°
Motor/ Electrical:

1/2 hp - 7.8 amps @ 115V (60Hz)

1/3 hp - 4.4 amps @ 240V (50Hz)

Noise @ 10 ft:

72 dB(A) - 60Hz

70 dB(A) - 50Hz

Average Particle Size:

5-10 microns @ low output

10-20 microns @ high output

Output Range:

1 - 11 GPH (60Hz)

2.8 - 31 LPH (50Hz)

Tank Capacity:
18 US gal / 68 L
CFM:

3,000 - 60Hz

2,800 - 50Hz

304 Stainless Steel:

All hardware, sheet steel and wire goods

Environment:

Endures temperatures from
33° to 160° F

Indoors / outdoors

Humidity to 100% RH

UV stabilized & impact resistant
Digital Humidistat Control

Environmental Controller w/ Humidity Sensor

A precision controller suitable for many applications. Control is very fast
acting, displays humidity levels and has programmable differential range.
- Not recommended in prolonged use above 90% RH.

• Fast-acting Digital Sensor
• Range 5-99% RH
• Rated up to 1800W (15A @ 115V)
• Over-Humidity and Sensor Fault Alarm

Humidistat Control

Dependable, Easy to Use


Ideal for control in applications under 80% RH. Controller incorporates a
mechanical-action humidistat sensor along with a starter contactor. For
reliable start of high inrush loads of the devices being automated.


• Range 20-80% RH
• Differential approximately 7%
• Rain-tight Enclosure
• 30A Contactor DPST

24-Hour Timer Control

Excellent for controlling long operation cycles

If your primary interest is long cycle operation, the basic 24-hour timer control is a reliable way to automate the XE mobile units.

Supplied with male and female cord set.
Rain-tight Nema 3 enclosure
Adjustable 1 hour cycles
2 sets of on/off trippers provided
115V 60Hz

Thermostat Control

If your main interest is evaporative cooling

If your interest is in evaporative cooling, the thermostat control is the best choice to automate your XE mobile units.

Water-tight Nema 4X
Differential 3º F
Control range 40-110º F
100- 250V 50/60Hz

Temperature-Humidity Meter

Ideal for applications below 95% Relative Humidity

This precision hand-held thermo/hygrometer is ideal for measuring and monitoring ambient temperatures and relative humidity in a wide range of professional and industrial applications. Dual readout LCD displays
in °F or °C.

Temperature range/accuracy: 32 to 122°F (0 to 50°C)/1.8°F (1°C)
Humidity range/accuracy: 20 to 95%RH /3%
Response time: 60 seconds
Power source: CR2032 Lithium-ion battery (included)

Temperature-Humidity Meter w/ Dew Point

Ideal for applications up to 100% Relative Humidity

This precision hand-held thermo/hygrometer is ideal for measuring and monitoring ambient and dew point temperatures and relative humidity in a wide range of professional and industrial applications. Dual readout LCD displays in °F or °C.

Temperature range/accuracy: -4 to 122°F (-20 to 50°C)/1.8°F (1°C)
Humidity range/accuracy: 0 to 100%RH /3%
Response time: 60 seconds
Power source: Two "AAA" batteries (included)

CoolAire™ Fluid Level Auto Shutoff

If the tank's fluid level gets low, the unit will shut down.

This custom feature is not compatible with automated controls. If you are planning to automate your unit using a humidistat, timer or other controller, then this option will not work.

An important add-on feature for certain applications, a momentary push button switch operates the power supply through an electrical relay that is controlled by an internal fluid-level switch. If the unit shuts down, refill the tank and manually push the start button again.

Allow extra 2-3 days lead time
Not compatible with automated controls