Turbo XE fogging fans are superior atomizers designed for a variety of commercial and industrial applications. Turbo XEs produce fog combined with powerful airflow, making them ideal for interior humidification, evaporative cooling, and chemical fogging. Components are UV stabilized and suitable for outdoor use.
This centrifugal atomizer produces billions of tiny, fog-like particles that evaporate quickly. The Turbo XE operates without the use of nozzles, high-pressure pumps, compressed air, or filtration, eliminating the need for constant repairs and maintenance. The fogging output is adjustable and controlled by a flowmeter. This unit can either be controlled manually or automated by adding a control with a solenoid valve. Units can also be fed using a metering pump or gravity feed system.
Turbo XE units come standard with 20' of water line, a 12' power cord and liquid-tight connector, and 16' of drainage line. Utility line lengths may be customized during the order process. Units hang by either a universal mounting bolt or two U-bolts.

Flowmeter Control Panel
Turbo XE direct feed units come with a flowmeter panel of your choice. These panels control the water flow rate and fogging output. They feature stainless steel construction and a clear polycarbonate flow rate scale for monitoring. Flowmeters require a water supply of 10 to 100 PSI.
The smaller flow rate panels are generally used in applications requiring drier fog.
Flowmeter Sizes with Related Applications:
4-34 GPH
2-24 GPH

1-15 GPH
1-11 GPH

.3-5 GPH
(20-300 cc/min)

.1-2 GPH
(10-110 cc/min)

Ag/Horticulture

Evaporative Cooling

Concrete Curing

Mushrooms

Manufacturing Plant

Wood/Lumber/Paper

Wine/Barrel Storage

Manufacturing Plant

Textile Plant

Dust/Static Control

Odor Control
---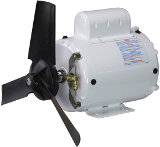 Jaybird's Rear-Feed Blade
Our exclusive blade design is a significant product development, enhancing reliability and performance.
ABB Wash-Down-Duty Motor
Industrial grade
For use around water
---
Corrosion Resistant
18-8 & 304 Stainless Steel Materials
Polypropylene & Polyethylene Plastics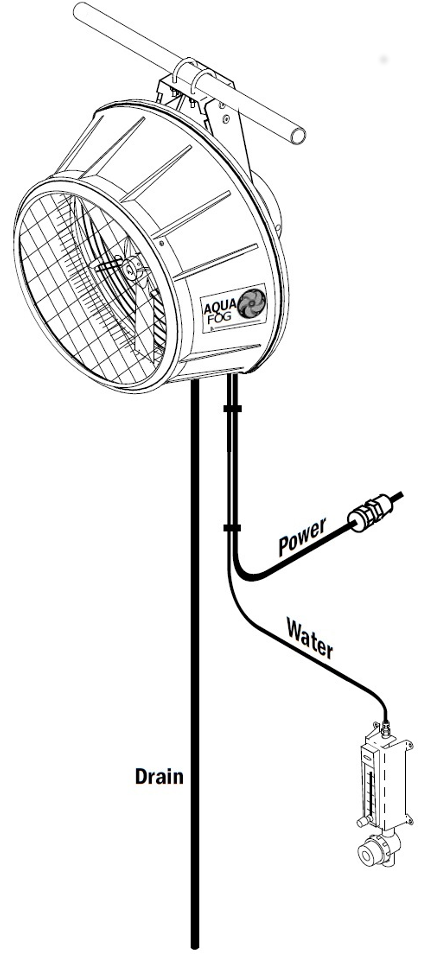 Overall Dimensions:

Diameter 21 in / 53.5 cm
Depth 17.5 in / 44.5 cm
Height 25 in / 63.5 cm

Propulsion Distance:

30-35 ft / 10-11 m

Noise @ 10 ft:

72 dB(A)

Average Particle Size:

5-10 microns @ low output
25 microns @ mid output
35 microns @ high output

CFM:

1/2 HP - 3,000
1/3 HP - 2,800

Operation:

Continuous duty capability

Energy Consumption:

1/2 HP - 7.4/3.7A @ 115/230V
1/2 HP - 1/2A @ 230/460V 3Ph
1/3 HP - 4.4 amps @ 240V 50Hz

Shipping Weight:

Box 1, 19 lbs/8.6 kg
Box 2 (1/2 HP), 32 lbs/14.5 kg
Box 2 (1/3 HP), 32 lbs/14.5 kg

Box Dimensions:

Box 1, 21"x21"x15" / 53x53x38 cm
Box 2, 16"x12"x12" / 41x30x30 cm

Hardware:

300 Series stainless steel

Environment:

Endures temperatures from
31° to 160° F

Indoors / outdoors

Humidity to 100% RH

UV stabilized & impact resistant
Digital Humidistat Control - DF

Environmental Controller w/ Humidity Sensor & Solenoid Package

A precision controller suitable for many applications. Control is very fast
acting, displays humidity levels and has programmable differential range.
Electrical plug-in connections, supplied w/male plug for one XE-2000 unit.
- Not recommended for prolonged use above 90% RH.

Fast Acting Digital Sensor
Range 5-99% RH
Includes Water Solenoid for Direct Feed
Operates One XE Unit 1800W (15A @ 115V)
Over-Humidity and Sensor Fault Alarm

Digital Humidistat 2 Unit Control - DF

Environmental Controller w/ Humidity Sensor & Solenoid Package

A precision controller suitable for many applications. Control is very fast
acting, displays humidity levels and has programmable differential range.
- Not recommended for prolonged use above 90% RH.

Fast Acting Digital Sensor
Range 5-99% RH
Includes Water Solenoid for Direct Feed
Operates One or Two Units 3500W (30A @ 115V)
Over-Humidity and Sensor Fault Alarm

XE 360 Oscillator

Increase Coverage & Circulation

Ideal for interior applications and when hanging for permanent installation, consider the use of an Oscillator. The sweeping action of a fogging unit not only alleviates droplet collisions and fallout, but also enhances air circulation. The steady, continuous movement provides for uniform coverage patterns up to 70 feet in diameter. This allows the operator to fog at higher output levels than a stationary unit operating under equal conditions, resulting in less fallout and improved dryness underneath the fog pattern.

304 Stainless Steel Enclosure
Dwell-free Sweeps from 15º to 360º
Full 360º Rotation in 3 Minutes
On/Off Toggle Switch
Durable 75 Pound Weight Capacity

Molded Floor Stand

Easy Set-up Floor Stand

If securing Turbo XE Fans overhead is not practical, this floor stand allows quick, easy set-up. Capable of stationary or oscillating set-ups. Stands are molded of heavy-wall, polyethylene reinforced material.

Quick assembly
Five height settings
Sleek, sturdy design

Only in Black

Humidistat Control

Mechanical Environmental Controller

If your humidity requirement is 80% or less, the Humidistat Control is the best choice for control of your environment. When the humidity level drops to about 6% below the set point, the humidistat will activate the Turbo XE Fan to replenish the loss of humidity. If ventilation occurs, humidity can be restored with evaporative cooling.

Controls up to two Turbo XEs

Timer Control

Excellent for controlling long operation cycles

Often the choice for applications when humidity is desired above 80%. Using extended cycle operation, the operator can attempt to control humidity levels utilizing manual control of the flowmeter panel.

Time cycles as short as 1 hour. Two sets of on/off trippers provided.

Controls up to two Turbo XEs
50Hz Timers are electronic (digital)

Thermostat Control 1

If your main interest is evaporative cooling

These watertight thermostats will provide accurate measurement of the temperature, automatically controlling your Turbo XE Fan(s) at approximately 3°F above and below your desired set-point.

Effective Range: 40 to 100°F
Controls 1 Turbo XE

Thermostat Control 2

If your main interest is evaporative cooling

These watertight thermostats will provide accurate measurement of the temperature, automatically controlling your Turbo XE Fan(s) at approximately 3°F above and below your desired set-point.

Effective Range: 40 to 100°F
Controls up to 2 Turbo XEs

Two-Stage Control

Environmental control for high humidity applications and changing temperature conditions

Designed for the greenhouse propagator, these systems can be set to automatically increase fog output when ventilation occurs. Stage one fogging output is controlled by the Timer and Stage two (increase fogging output) is controlled by the Thermostat.

24-hour rain-tight time clock with adjustable cycles as short as 1 hour and two sets of on/off trippers provided
Controls up to two Turbo XEs
50Hz Timers are electronic (digital)

Economy Traveling Floor Stand

If securing Turbo XE Fans overhead is not practical, this floor stand allows for an affordable solution. Capable of stationary or oscillating set-ups. Stands are constructed of heavy-wall pipe and prime grade lumber.

Fully adjustable boom
10" molded wheels

Wall Mount

The Wall Mount Support provides adjustable height along its 30" vertical length. The cross-support extends 21", accommodating for 360° sweep rotation.

Supplied with Lag bolts and masonry anchors

Ceiling Mount

Support has 36" horizontal length

Temperature-Humidity Meter

Ideal for applications below 95% Relative Humidity

This precision hand-held thermo/hygrometer is ideal for measuring and monitoring ambient temperatures and relative humidity in a wide range of professional and industrial applications. Dual readout LCD displays
in °F or °C.

Temperature range/accuracy: 32 to 122°F (0 to 50°C)/1.8°F (1°C)
Humidity range/accuracy: 20 to 95%RH /3%
Response time: 60 seconds
Power source: CR2032 Lithium-ion battery (included)

Temperature-Humidity Meter w/ Dew Point

Ideal for applications up to 100% Relative Humidity

This precision hand-held thermo/hygrometer is ideal for measuring and monitoring ambient and dew point temperatures and relative humidity in a wide range of professional and industrial applications. Dual readout LCD displays in °F or °C.

Temperature range/accuracy: -4 to 122°F (-20 to 50°C)/1.8°F (1°C)
Humidity range/accuracy: 0 to 100%RH /3%
Response time: 60 seconds
Power source: Two "AAA" batteries (included)

Turbo XE Water Solenoid

Control water flow, electrically

Use with preexisting control systems.
Connect directly to the same power supply to automate water flow (on/off) in conjunction with the fogging unit.
Safeguard against power outage.
If operating fogging units manually (no control system), a water solenoid installed in the unit's water supply line will shut off water flow in the event of a power outage.

6' cord w/ grounded 3-prong plug
NEMA 4 Water-tight components
Swivel hose x 3/8″ OD tube connection